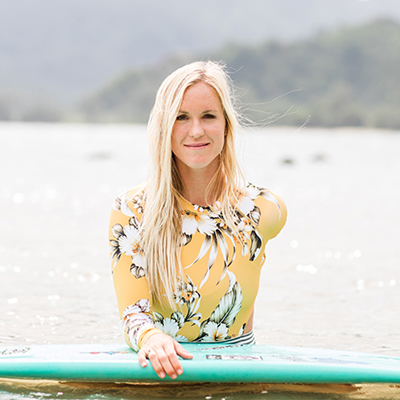 Bethany Hamilton has become a source of inspiration to millions through her story of determination, faith, and hope.
At the age of 13, Bethany lost her left arm to a 14-foot tiger shark, which seemed to end her career as a rising surf star. One month after the attack, Bethany returned to the water and within two years had won her first national title.
In 2007, she realized her dream of surfing professionally and since then, her story has been told in a New York Times bestselling autobiography and in the 2011 film, Soul Surfer. Bethany is involved in numerous charitable efforts, including her own foundation, Friends of Bethany, which reaches out to amputees and youth, encouraging and offering hope to overcome through Jesus Christ. Using her platform as a professional athlete to promote living a fit and healthy lifestyle, she authored the book Body and Soul in 2014.
Bethany's latest project, Unstoppable, a surf documentary which showcases her as one of the best women surfers in the world, released theatrically in 2019, accompanied by a photo book and a children's book. Passionate about helping young women be unstoppable in life and faith, Bethany has launched a new website and online course for sharing content and facilitating connection. Her greatest joy is being a wife and mother, and she continues to touch and inspire lives globally as a professional surfer and motivational speaker.
To learn more about Bethany Hamilton and her work, visit her website at bethanyhamilton.com